Spent a great weekend at a tournament at the North East Derbyshire Snooker Centre, Clay Cross. A glorious venue for snooker, with more than 20 tables spread across three rooms, and a large bar area with fantastic food served all day. Just the sort of place to lose track of time for two whole days, and with a top bunch of people too – a few from TheSnookerForum and a few more drawn from the local area.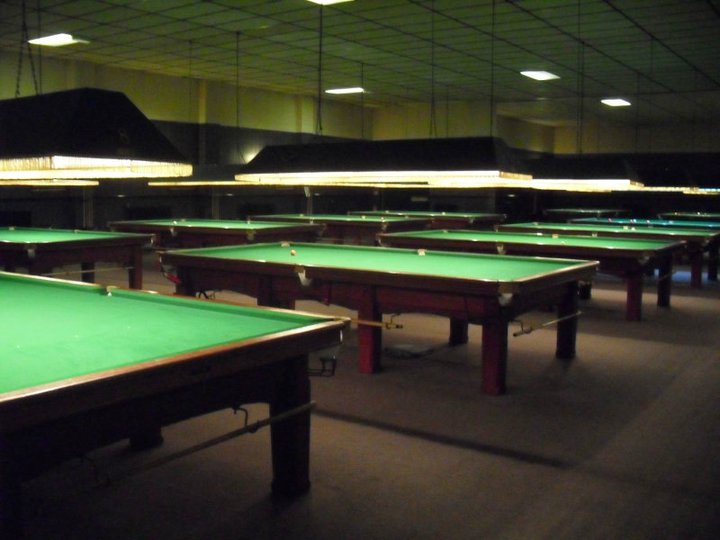 Day One was a handicap event with an initial group stage. I failed to make the cut, winning one and losing two, but I doubt there will be many times I'll give up a 14 start to a lad who then knocks in an 85 in his quarter final match! Had a good laugh with him about it afterwards – smashing young lad, Sean Hopkin, who loves the game, has a polished cue action, and could go far, especially if he can get away with mugging people like that!
I must admit I didn't see much of the latter stages, as I got embroiled in an epic best-of-how-long-have-we-got against a former amateur snooker star. We both hoped it might help for the main event the next day. Neither of us are sure whether it did.
In fact, I might have been better-served by actually watching the final to see one of the lads who would put one over on me in the group stages the next day… He actually got undone, at the very end, by a fine clearance from Sean O'Sullivan (no, a different one) who clinched the trophy at the end of a marathon first day.
Day Two was the Main Event and again commenced with group stages. I had a good early look at the eventual runner-up, a certain Ashley Walker, once ranked as high as number 78 in the world, as he was my first opponent over five frames. Well, I say five, but actually it was just three, although he was happy to admit that his unblemished card owed a debt to my twitch on the brown when in, plum, with a chance to take the first. Ashley never really got to grips with the slightly unresponsive table, but he wasn't really troubled by me from that point on.
In my next match, I met the previous day's runner-up, who duped me by playing so awkwardly from the off that when he finally did find his range late in the second frame, it caught me completely off guard. It turns out that "Captain Kwok" can actually play a bit when he gets his shooting boots on… and the eventual 3-2 defeat put an end to my hopes of progressing. At least that meant I could relax and focus on the crucial task of securing one of those fabulous bar meals.
It was also a chance to meet the eventual winner, Bash Maqsood, fresh from his exploits in Q-School, and the timing couldn't have been better as, shortly after we'd ordered, in came a troop of about forty male cyclists wearing bras. It was a fitting reminder of the event's clash with SWSA's Pink Ribbon event for Breast Cancer, but it left poor Bash wondering whether he was dreaming or tripping. The good news was that he was able to put this behind him and progress, reasonably comfortably, to set up the final the spectators were hoping for. And it was a treat.
Neither player was looking to hang about as the long pots flew in. Ashley clinched the first frame with two 30s to Bash's one, before Bash responded with a fine attacking display first to level and then take charge of the next. Ashley fought his way back in, in this pivotal third frame, before running out of position, leaving himself on a colour but resting on the brown. With the finest of tip taps, he edged the white away from the brown, before seeing it rock back, presumably on a finger mark, coming to rest once again on the brown. He called a foul on himself, despite several of us trying to persuade him that he'd done nothing to contravene any rule. (Any qualified refs care to agree or disagree?) He stood by the call, despite the fact that it all but finished his chance in the frame and Bash closed out to lead 2-1.
Fair play to Ash – he seems to be one of snooker's many gentlemen – but there was no stopping Bash now, who was in determined and purposeful mood, as he stepped up his pace round the table and clinched the remaining two frames. It was just a shame he needed 3 cushions to find a way to pot the crucial final pink, but his display had certainly merited the win, as Ash freely admitted. At least Ash had his runner-up trophy and the additional consolation of the high break trophy to show for his earlier 111 against Kwok.