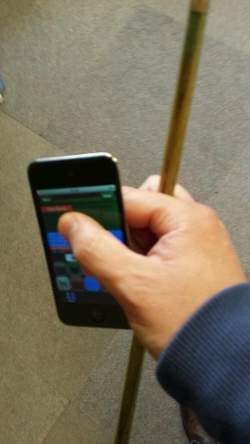 Hold phone and cue in one hand; replace colours with your free hand. Swap over when it's your turn to clear up.
MySnookerStats' phone application is easy-to-use and unobtrusive. Just press one button each time your opponent takes a shot, and let MySnookerStats get on with keeping the score – while you get on with playing the game.
Standard or Professional?
You can use MySnookerStats in either Standard or Professional mode.
In Standard Mode, your phone tracks the score, your breaks, and your positional success percentage – that's how often you're able to carry on your break by potting another ball. Standard Mode's great if you're just getting started with MySnookerStats, because you don't have to record every single shot, only those which affect the score.
If you're ready to go a bit further, turn on Professional Mode. In Professional Mode, you'll need to be more attentive and press a key every time one of you strikes the cue ball – whether you make a pot or not. But for that little extra effort, you'll gain access to a wealth of advanced statistics, including your potting and safety play success rates and your average shot time.
MySnookerStats starts out in Standard mode, but you can switch to Professional mode at any time before starting a new match. You can see which mode you're in when you start MySnookerStats, and you can change by picking Settings from the main menu.
Before you start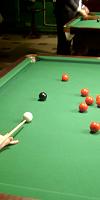 Put your phone in silent mode if you don't want it to ring during the match, then start up MySnookerStats. Choose Start new match, type in your opponent's name, pick who'll break and, if you're not playing off levels, tell MySnookerStats who gets how many points' start. That's it! You're ready to play.
If you're playing another MySnookerStats subscriber, you can also enter their ID now – the match stats will show up in their personal web pages as well as yours. If they've forgotten their ID, don't worry; you can fill it in online later. And MySnookerStats remembers the people you've played against – so next time, you'll just need to pick their name.
During the match
Scoring a match with MySnookerStats really couldn't be simpler. Like usual, you keep score while you're opponent's at the table – just press the buttons on your phone's screen or keypad to record their pots as they go along. When it's your turn to play, just pass your phone to the other player and let them score for you.
Checking the progress of the game is easy too: the current score, current break and last few balls potted are always shown on your phone's screen.
[N.B. The instructions below are tailored to users of phones with keypads. If you've got a touch screen phone, press the obvious on-screen buttons instead!]
---
Making a pot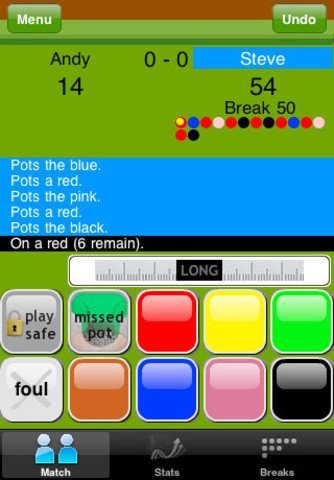 When the pot goes in, press the button for the value of the ball: 1 for a red up to 7 for the black.
Watch the score tick up, then get straight on with the next shot. Each time a ball is sunk, one touch on the button is all you need.
Missing a pot
Just press 0. MySnookerStats records the break and automatically switches to keeping the other player's score.
Playing safe (Professional Mode only)
When nothing's on and you've had to play safe, just press 9.
Because you press 9, MySnookerStats knows this wasn't a missed pot, even though you didn't score. It doesn't count against your potting average – and if your opponent can't pot their next ball, your safety-play average improves.
Long pots (Professional Mode only)
If you're playing a long pot, press 8 first. So, press 8 then 7 if you've potted a long black. Press 8 then 0 if you try a long pot but miss.
By pressing 8 at the right times, you'll help MySnookerStats track your long potting success – an important tool in helping you decide which areas to work on in your game.
Dealing with fouls
Fouls in snooker are a complicated business, but MySnookerStats understands all the rules.
Press * to begin, then use the easy on-screen menu to walk through all the details. Asking your opponent to play again? Just go into the * menu once more.
Fixing mistakes
Don't worry if you press the wrong button – just press # to undo your last entry, then try again. You can undo as many times as you need.
And rest assured, MySnookerStats won't let you record a pot which isn't allowed by the rules… so if you ever do lose track of which buttons you've pressed, a glance at the screen will set you back on course.
---
After the game

You can get a quick summary of your stats on your phone's screen at any time during the match, but to unlock the full power of MySnookerStats, you'll want to upload the game details to your account online. You can upload your stats from anywhere you've got mobile reception – you don't need a computer or any wires.
MySnookerStats suggests you upload the match as soon as you leave the table. If you can't do it then, no problem – the stats are automatically saved to your phone's memory to upload later on.