We will tell you EXACTLY how good you really are — and how good you need to be!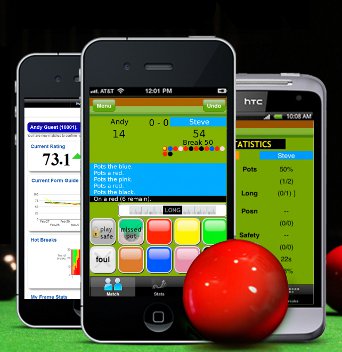 MySnookerStats ranks snooker players on their consistency of scoring
Where a beginner pots one ball and can't find position to pot the next, the best players in the world do more with each chance at the table than any of their rivals.
Over a period of matches, we build an accurate view of the ability of any player simply from their patterns of scoring, as recorded via the MySnookerStats scoring app. In fact, as you'll see below, we can do this so well that we can place every player in the world into a single list according to their rating.
We produce your current rating by measuring your scoring consistency over your last few performances and compare this level to your longer-term rating (a green up arrow indicates improvement; beware the red down arrow). Let's talk about what these numbers mean.
My Current Rating








Your MySnookerStats Rating is your percentage of (potting and positional) perfection.
What would 100% perfection look like? Total clearances from every scoring visit! No one is capable of this, which is why snooker remains a challenging, global sport.
You can always work to improve your own rating, but you also need to know what level other players are achieving to put your performances in context and to keep you motivated.
How good do I need to be?
Today's elite players have reached a level of mastery that demands admiration. If you compare their positions in World Snooker's Professional Ranking Money List with our scoring consistency ratings, the correlation is almost perfect. That's not surprising, but it only covers the very top of the playing pyramid.
Through our many years of involvement in playing and watching this sport, we've gathered masses of snooker match data at all levels from the pinnacle of the professional game, down through the amateur ranks to leagues, club players, juniors and novices.
We've crunched our numbers and put together a table of guideline targets for you. How will you measure up?
| MSS Rating | Playing Standard |
| --- | --- |
| 92+ | The very best in the world (only Ronnie O'Sullivan at his best!) |
| 87 – 91 | The World's Top 16 |
| 83 – 87 | The remainder of the Professional Tour players |
| 80 – 83 | Q-School hopefuls |
| 75 – 80 | Strong amateurs |
| 70 – 75 | Good league players |
| 60 – 70 | League players |
| 40 – 60 | Club players |
| < 40 | Beginners / Novices |
Don't be fooled by an isolated very good performance. Anyone who can make a 70+ break can win a frame against anyone in the world, but the challenge is to do it often enough to win best of 7s or more. Your rating becomes more statistically significant each time you upload performance data.
As you track your progress over the months, you might soon realise that the higher your current rating is, the harder it gets to increase it. To improve from a regular 50% rating to 55% is a comparatively small step, whereas to move from 80% to 85% is more like a gulf! Don't be disheartened – improving in this game demands commitment!
If you're already a professional player, winning ranking tournaments or climbing the money list, then you may not be inclined to look any further at what we can tell you about your ability. However, if you're one of the huge number of keen players looking to improve their game and see where they rate against their mates and in the greater order of things, then you need to sign up and try this out.
We can answer all these questions for YOU…
How good are you on average?
How consistently do you play at that level?
Who's the best in your club? And how much better do you need to be to beat them? (You'll need to get your friends involved for this.)
Are you getting better through your practice and play?
In a game that's riddled with inconsistency, how else will you know when you've achieved a real, lasting improvement, rather than just having one of those occasional days "in the zone" we all know and love? That's the strength of measurement!
So how does MySnookerStats work?
Download our free scoring app for your iPhone, iPad, iPod Touch, Android phone or tablet. (MySnookerStats is not available on Windows Phones.)
Use the app for scoring your matches instead of your regular scoreboard. It's easy to learn and easy to explain to any interested opponent or spectator. You can see your up-to-date stats and breaks at any time during the game, which adds a new level of interest and motivation.
Once the game is finished, you can immediately upload the match and it appears automatically in each player's personal web account (or just your account if you're playing a non-member), with all the statistical information stored for analysis and tracking of your progression.
Tell me more about using the MySnookerStats app…
How do I check my progress?
You will find tables and graphs of your progress on your (private) My Home page. You can also:
compare your own stats against friends and opponents
set up your own groups (they're like mini league tables)
view head-to-head records against opponents
and much, much more. Your performance data is private to you and your friends (except for matches recorded in public MySnookerStats Tournaments), but you can also compare your snooker stats with other members from around the world if you're happy to do so.
Tell me more about using the MySnookerStats website…
MySnookerStats Tournaments and Live Scoring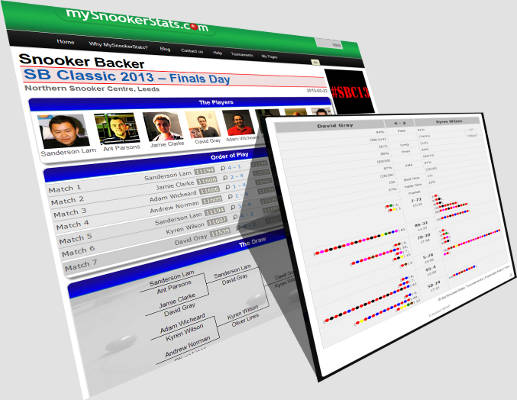 Yes, that's right: our amazing system is now available to tournament administrators who can easily run a whole tournament with all of these professional stats plus our brilliant Live Scoring panels perfect for your friends, fans and followers to keep bang up to date with the action.
Tell me more about MySnookerStats Tournaments…
How much does MySnookerStats Premium cost?
Sign up right now for your individual player account with a free 30 day trial of all our Premium features. Premium membership costs just £9.99 for a whole year of access – that's amazing value!
You can upgrade at any time and we'll add a year to any remaining trial period. Otherwise, when the trial period is up, we will continue to keep your stats (and you can continue to upload your matches) and they will be ready for you to view as soon as you upgrade.