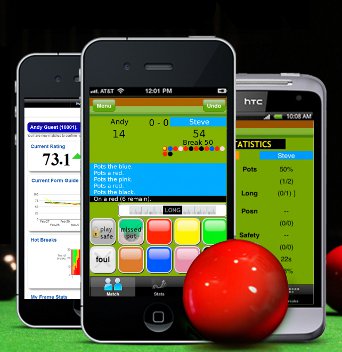 Two things separate the best snooker players in the world from the simply very good:
Knowledge

The knowledge gained from additional hours of practice makes a wider choice of shots available to the best players. This gives them the crucial advantage in safety battles and helps them to keep a break going when the balls aren't nicely spread.

Consistency

Consistency is the key to their success. It is evident in all aspects of their game, from shot routine to cue delivery through to their positional excellence.
MySnookerStats ranks snooker players on their consistency of scoring…
Where a beginner pots one ball and can't find position to pot the next, the best players in the world do more with each chance at the table than anyone else.
Over a period of matches, we build an accurate view of the capability of any player simply from their patterns of scoring. In fact, we can do this so well that we can place every player in the world on a single rating list.
My Current Rating








That's what the MySnookerStats Rating is all about, offering snooker players a badge of honour to match what the golf handicap gives our club-swinging counterparts.
Obviously, if you're already a professional winning ranking tournaments or climbing the money list, then you're probably not looking for a new badge(!)… On the other hand, if you're one of the huge band of committed, regular players looking to improve their game and see where they belong against their mates and in the greater order of things, then you need to sign up and try this out.
We can answer all these questions for YOU…
How good are you on average?
How consistently do you play at that level?
Who's the best in your club? And how much better do you need to be to beat them?
Are you getting better through your practice and play?
In a game that's riddled with inconsistency, how else will you know when you've achieved a real, lasting improvement, rather than just having one of those occasional days "in the zone" we all know and love? That, ladies and gentlemen, is the gift of measurement!
So how does MySnookerStats work?



Download our free scoring app for your iPhone, iPad, Android phone or tablet. We also have versions for older BlackBerry and Nokia phones and our Windows Phone version is under development.
Use the app for scoring instead of your regular scoreboard. It's easy to learn and easy to explain to any interested opponent or spectator. You can see your up-to-date stats and breaks at any time during the game, which adds a new level of interest and motivation.
Once the game is finished, you can immediately upload the match and it appears automatically in each of the participant's personal web accounts (or just your account if you're playing a non-member), with all the statistical information stored for analysis and tracking of your progression.
Tell me more about using the MySnookerStats app…
How do I check my progress?
You will find progress graphs and tables on your very own MySnookerStats.com home page. You can also:
compare your own stats against friends and opponents
set up your own groups (they're like mini leagues)
view head-to-head records against opponents
and much, much more. You can also compare your snooker stats with other members from around the world if you're happy to "go public".
Tell me more about using the MySnookerStats website…
MySnookerStats Tournaments and Live Scoring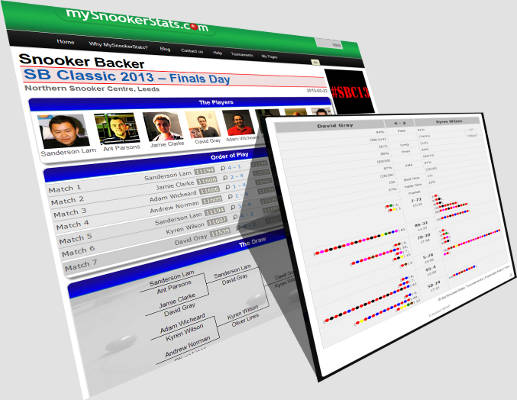 Yes, that's right: our amazing system is now available to tournament administrators who can easily run a whole tournament with all of these professional stats plus our brilliant Live Scoring panels perfect for your fans, friends and followers to keep bang up to date with the action.
Tell me more about MySnookerStats Tournaments…
How much does MySnookerStats.com cost?
You can sign up right now for a free 30 day full trial. Our Premium membership costs just £9.99 for a year – that's amazing value!
When the trial period is up, we will continue to keep your stats (and you can continue to upload your matches). They will be ready for you to view as soon as you upgrade.
"Sign me up right now, so I can see for myself!"