Play Snooker.
Compare Scores.
MySnookerStats ranks snooker players on their consistency of scoring.
Find out how good you really are.
Use our amazing app to score your matches
and upload your results here instantly.
We'll tell you EXACTLY how good you are
and keep track of your progress.
You'll enjoy your snooker even more,
while learning more about the strength
of your game than you could imagine.
Praise for the MySnookerStats Scoring App and Online Tracking System

"I love MySnookerStats! It's such a clever idea. Measuring your game is a key part of achieving success… and now everyone can do it so easily because everyone's got a phone."
Willie Thorne (RIP), former professional snooker player, BBC commentator, all-round snooker legend.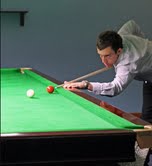 I'm amazed at the additional level of analysis that's possible with the MySnookerStats Premium Account and for such a small price it's incredible value. Honestly, I think it's genius!
Jack Bradford, budding snooker player.
Excellent! – ★★★★★ by Ajeya Prabhakar (2014 United States National Snooker Champion)
This is extremely well thought out. The best snooker handicapping, management and progress system without doubt. We will definitely be adopting it here in the US.
A must-have app for any snooker player! – ★★★★★ by McGeiger
A great app! I've hesitated to use any snooker app before, as I've feared it would be a distraction to the game. But this is so easy to use that now I don't play without it! A great way to track your progress as a player, and to share the game stats with your mates. Works like a charm!
Brilliant App for snooker players of all levels – ★★★★★ by Caesar
What I love most about this app is that the stats don't lie. If you're potting at 60% then that's your current level. Really well integrated with the website. Effectively does away with the scoreboard, and makes the whole frame more enjoyable as you wait to see how your stats have progressed.
Trusted by Tournament Organizations
For tournament results, player rankings, live scoring and live match streaming – ★★★★★ by Snookerbacker
As a Tournament Director, MySnookerStats offers a fuss-free and invaluable service. The MySnookerStats Live Scoring system really helps bring events to life for the online audience.
>> Time to see for yourself? Sign up for an individual player account.
>> Your Privacy