Just returned from the inaugural South West Snooker Academy Team Festival, having had an excellent long weekend. A fine effort from the organizers and officials somehow enabled them to orchestrate several different competitions involving about 100 players across just 13 tables in three days.
The facilities are, quite simply, world-class. Pristinely maintained Star tables, with tournament cloths and table heaters to keep the Aramith balls running and running. And yes, the pockets are indeed tighter than in your average club. It's the snooker equivalent of being treated like royalty. As you get down on a shot you feel the warmth rising up to the tips of the fingers in your bridge hand, and you know that the table is so true that the ball will go wherever you send it, no excuses, no rolls.
The individual tournaments didn't get off to the greatest of starts for our players with Alex and Carl being drawn against each other and Jack and Andy quickly succumbing to defeats. There was more fight about Rich and Ashley Evans (our sixth man), but sadly no progress from anyone to the latter stages. But it was the Team Event that we were all about and we were drawn in Group D.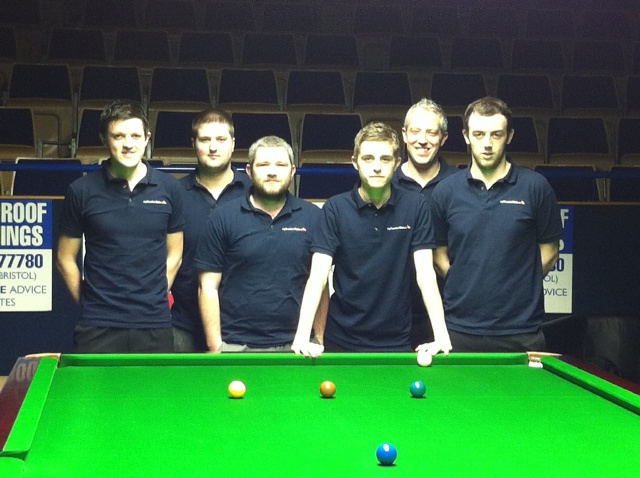 We clinched our first match 3-2 against Forest of Dean B having led 3-0 and battled hard to repeat that scoreline in the next against Efficiency, setting up a tense group-topping decider for Saturday night's match. I took the very sensible option of dropping myself, being the clear sixth best in our squad of six, planning to give myself a run-out in the last match, by which time our fate would probably already be sealed.
Appropriately enough, the crunch match against The Wizards was played out in the fabulous Kay Suzanne Arena with the waiting teammates occupying the lower rows of the three-sides seating. A nervous start to the match saw Ashley Evans struggle to produce what we know he can as he was edged out by Mark Dwyer before next up Richard Remelie took on Gaz Allen. Gaz controlled this from the off, cueing sweetly, and refusing to hang around – sight it, walk in, pot it, on to the next, he made the game look simple. It was a shame he threw in one slightly quicker one on a green to spoil his chance of compiling a sizable contribution.
So the pressure was right on Jack Bradford because we now needed three frames in a row to stay in the tournament and he was up next against Welsh international Andy Williams. I wasn't feeling optimistic, until I noticed a new steel and determination about The Brad who seized control early and refused to let go. Andy just didn't settle and his best game was not to be seen on this occasion. 2-1 down, was the great escape really on? Next up came Carl Bennett, drawn against a highly promising youngster in Kieran Dwyer. This was a brilliant performance from Carl, who knocked in some great balls, but matched it with some really impressive safety, keeping Kieran well away from any chances to put points together. The young lad definitely seemed to drop in confidence and then was unable to take anything from the one chance he did get late on in the frame (he'll be back stronger, though, don't you worry). 2-2!
Onto the decider between Alex Taubman, and the Wizard of Gloucester himself, Craig Scotford. The man, the legend and inventor of a brand of Careless Snooker to rival any of the naughty stuff that Judd Trump plays, strode down to the Arena table, set down his cue case and his huge can of Strongbow and prepared for the showdown. Taubs was on his game and not for a moment was he going to let the good work of his teammates go to waste. The Wizard's safety play and his knowledge of the angles meant that Alex had to stay patient and keep matching him until finally the chance would come. And when it eventually did, our star man did the business to seal our triumph. We were all so pleased we went off for a celebratory KFC, missing out on the Wizard's Tour of the local nightlife.
The next game against Gloucester was another nervous encounter where some of our grit, determination and edge seemed to have been lost and we toiled to take a 2-1 lead. With two frames to go, and the appearance of Ben Fortey as a bit of a ringer as last man for the opposition, the pressure was fully on Ashley Evans to deliver the goods against the intimidating Chris Cheshire. He's a tall fellow who sights the ball so keenly that they call him "Optician Chris" :-), but Ash was strong and composed and pulled off some great pots to deliver the victory we needed. Carl was able to relax in his final match, but was eventually undone by an evil snooker which trapped him near the jaws of the pocket and tight behind the yellow. The half an inch range of cushion available for him to hit made this one a snooker to have challenged Angles McManus himself. No matter, a 3-2 win gave us the top spot in the group and a place in the semi final.
Our semi-final against West Midlands was over much more abruptly as we were bashed 3-0 and the final two frames were not required. West Midlands were a very strong side and proved this further when they took the notable scalp of Team Snooker Island in the final. For more on the latter stages with the view from the perspective of a rival team, take a look at the lively discussion here and the in-depth write up here.
To see MySnookerStats in action for the Team MySnookerStats matches, go to www.mysnookerstats.com/swsa-festival-2012-stats and enjoy!