Your rating in MySnookerStats is based on your positional success in your last five uploaded matches. Here's what your rating says about you.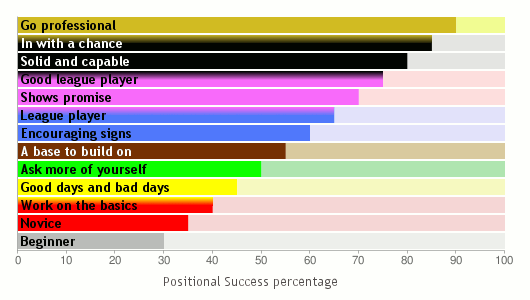 If your long term MySnookerStats positional success is in excess of 90%, then congratulations – you are destined for the World's Top 16. For everybody else, please find your band above… If your rating is between zero and 30, you are in the Beginner band; if you lie between 80 and 85 then you are "In with a chance" of making it at the highest level.
Obviously, this is intended as a fun way to visualize your level and there are some key disclaimers required. The better you get at this game, the harder and harder it becomes to step up to that next band. Occasional performances at a higher band are great for your confidence, but you need great consistency to succeed. And even when you've shown you're capable of achieving great performances regularly, there remains the question of whether you have the mental strength to win against others whose motivation incorporates a need to put food on their family's table.
The standard of this game has risen over the years and it's now more demanding than ever. Maybe that is sometimes to the detriment of the spectacle for audiences, but anyone who plays knows the game has lost none of its magic.