I'm not sure whether it was the constant drip-drip of advertising by the Great Goggled One himself (our Dennis) during the World Championship commentary, or more likely just the discovery that there was a Legends event as nearby as Radlett, which is basically around the corner from where I live (give or take 20 miles) that enticed me to attend this encounter between two of the greatest exponents of the noble art of snooker to ever live. Or maybe it was just the fact that Michaela Tabb was on refereeing duty? I'm sure about one thing though: it wasn't the prospect of another dazzling JV waistcoat…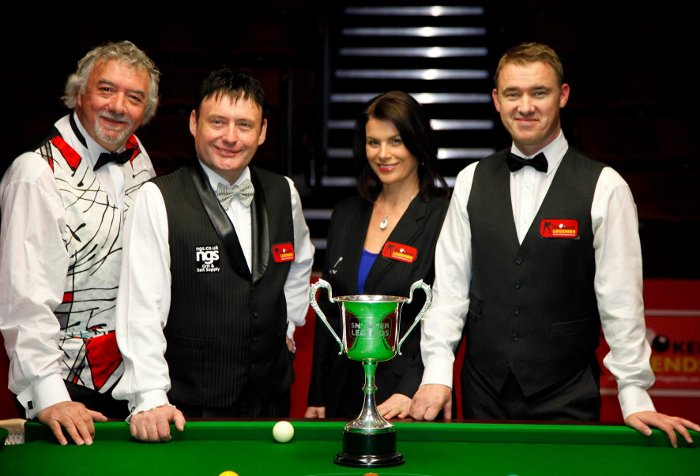 The evening began with a champagne reception and a chance to meet and greet the players and officials, get autographs and photos, and even catch a glimpse of some of the signed snooker memorabilia that will be turning up on eBay in the coming months. Ah, this modern life.
All four of our stars were impeccably turned out, professional, friendly and welcoming, and the relaxed atmosphere made it feel like we were being introduced to a snookering family of sorts. There was certainly an awful lot of shared history and experience in that room and, as spectators, we'd all been through that too, or at least those of us of a certain age…
John Virgo
We moved downstairs to the auditorium, ready for the main business of the day: to see up close what these geniuses can do. But before the geniuses, it was time for JV! Now, he's an absolute natural as a warm-up act, starting us off in an appropriately nostalgic tone with a selection of trickshots. He really knows what he's doing, although you might doubt it with his success rate on one or two of the shots on this occasion. At least we could normally see what he meant and the patter keeps you smiling throughout. At one point, I feared for the life of Dennis's best mate, Patsy Fagan, who was in front row attendance, finding himself in the direct line of fire when JV launched one of his most frightening shots, jumping a golf ball the length of the table into the tight neck of a basket. It looked like one of the unlikeliest shots of the night, but happily he nailed it!
After the trick shots, there was just a little time for some of the even more famous "this is how X would pot the black" routines. You can really feel the warmth and affection he has for the players he's sending up. Inevitably, one or two of the younger members of the audience could be heard whispering "Dad, who's that?" but for the majority there was no such problem. John mused on how they say there are no characters in the game any more. He said he'd asked the last person who'd suggested this to him who his favourite was. "'Terry Griffiths' came the reply!"
Well, perhaps they don't quite make them like they used to? Take a look back at the old footage on YouTube and you'll see that the likes of Alex and Jimmy produced a brand of snooker which you don't tend to see from the modern players. There was an invention, an exuberance and a flamboyance that still goes unmatched, not even by Ronnie's ambidextrous brilliance nor by some of Judd Trump's crash-bang-wallop long pots and shots-to-nothing. Before anyone gets offended, I'm not arguing about efficacy here. It may just be that the standard of positional play these days has advanced to such an extent that such invention is no longer required? And of course, it's no accident that Ronnie has four world titles to his name!
Overall though, let's face it – you can't achieve Legend status quickly, and in thirty years time, all of the current crop will be legends to us all – of that, I have no doubt. And we'll have shared in the process of seeing their careers and characters develop as those defining moments occur.
Jimmy v Stephen
As our evening's match kicked off, I was struck by the oddness I felt at willing Stephen Hendry to show us his best. That's meant as a huge compliment, rather than to sound spiteful, but I was a boyhood Jimmy fan and tears were fought back after every one of his Crucible defeats (not just the six finals). Somehow, seeing Jimmy's nemesis play tonight was cathartic for me too, as I'm comforted in believing that Jimmy has resolved (most of) those feelings that could easily have embittered him.
Tonight's encounter was set to be a best-of-9 with a difference – in the event of a tie at 4-4, the match would be settled by a respotted black rather than a final frame. Surely it wouldn't go the distance, would it? ;-) And there was another innovation on view – a "live Hawkeye" with JV at the controls. What's this, you ask? It's a more interactive style of commentary than we're used to, where John basically swoops in from his regulation commentary position and has a quick look at the shot himself, even venturing so far as to suggest shots to the players or criticize their choices in the immediate aftermath!
But what about the standard of play on offer? Well, the quality remains dazzling, as you can see from our stats posted below. Sure, with Jimmy, the consistency is not what it was, but he can still make the white ball dance like no one else around. And no one could possibly argue that Stephen Hendry couldn't have carried on playing at the very top level for a long while yet. Indeed, even with what should have been punishing jetlag he controlled his way to a 147 maximum at the Crucible, and only announced his retirement from snooker when the need to sleep finally caught him up. Or that's how it looked to the rest of us at the time!
Tonight's match duly went to a "final frame respot", which Jimmy won after Stephen went too thin on his attempt at the pot, but there were a few blistering breaks before all that…

Jimmy White

4 – 4




Stephen Hendry
87%
Pots
89%
(90/104)
(160/179)
[3/6]
Long
[4/10]
86%
Posn
92%
(76/88)
(146/159)
75%
Safe
50%
(9/12)
(4/8)
16s
Shot Time
15s
38%
Table Time
62%
Frames
() 1,
() 9,
() 31,
() 16

57-16


9:49
1(),
15()
() 18

23-83


11:10
1(),
82()
() 9,
() 86

95-17


8:31
1(),
16()
() 16

21-96


9:59
31(),
25(),
40()

0-141


10:00
141()
() 8,
() 6,
() 1,
() 50

65-64


11:09
13(),
51()
() 59

69-35


10:29
35()
() 7

14-119


9:23
119()
Overall, I have to report that a night with the Snooker Legends is an evening very well spent. My only criticism of the entire proceedings, really, would be that I didn't actually win the raffle to play a game of doubles paired with one of Jimmy or Stephen. Rest assured, I've passed that feedback on to the organiser directly!
If you fancy joining the Legends on tour and seeing some top quality snooker, get over to their website at www.snookerlegends.co.uk.
Anyway, that's all from me. G'night JV!